09.192017EXTENDE at KINT conferenceCategory "More to Extende" | No comment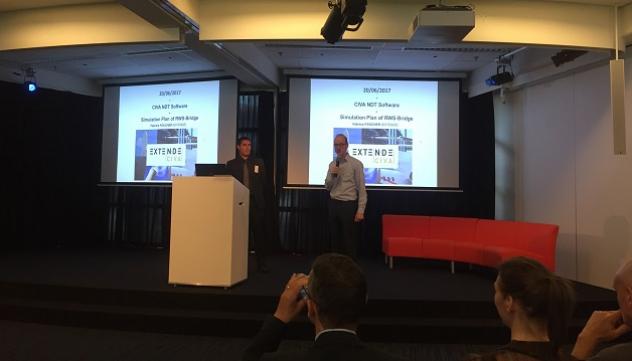 EXTENDE participated to the KINT conference in Hogeschool Utrecht from June 20th to 21st.
The main topic was "Modelling and Simulation, a vision of the future of Non-destructive Testing"
During 2 days mixing presentations and workshops, we had an great overview of the future of NDT, new methodologies, new tools, and how virtual reality would help to perform NDT in near future.
A key point was how digital technology will make teaching/learning NDT fun and efficient.
EXTENDEpresented the simulations on a test case made for KINT group and RWS, on the modelling of a Phased-Array UT Sector-Scan inspection of a T-Weld profile.
The main results of from this test case as well as an overview of the CIVA capabilities were presented to the participants.
The final target of this project is to optimize bridge inspections.
We thank the KINT team for the nice organization of this event.
The EXTENDE team