07.152021Damage monitoring with CIVA SHMCategory "CIVA Software" | No comment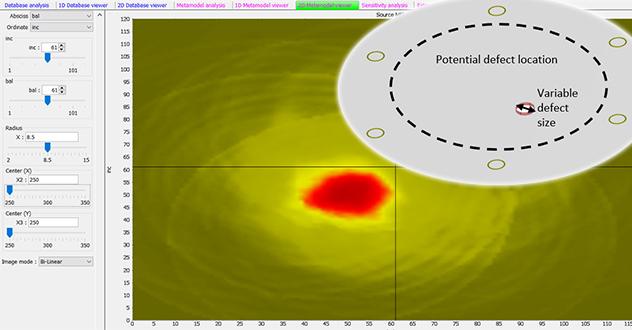 When designing and qualifying Structural Health Monitoring (SHM) and predictive maintenance strategies, it is important to know for which defect size and location the system will be able to detect the damage. Experimentally, it is really difficult and costly to test lots of scenarios since this requires production of many mock-ups with different defects, and to implement all of them with embedded sensors.
CIVA SHM enables the simulation of Guided Waves monitoring, and includes imaging tools that can characterize a defect signature with a visible indication. It is very easy to define variable parameters with simulation. Thanks to metamodels available in CIVA software, modelling becomes even more powerful as you will be able to produce a continuum of results to fully explore the impact of different variable parameters.
Our video of CIVA SHM introduces one simulation example with a monitored aluminum plate. One defect is included, and the defect size and location are defined as variable parameters. Thanks to the CIVA metamodel, you can visualize all possible defect indications obtained in the range of variation defined, and then predict the situations where the system will be able to detect the flaw.
This CIVA example only required 4 hours of computation on a simple computer!
Feel free to contact us if you need more information about CIVA SHM and metamodels.
The EXTENDE team.