07.102021CIVA 2021 is now available!Category "CIVA Software"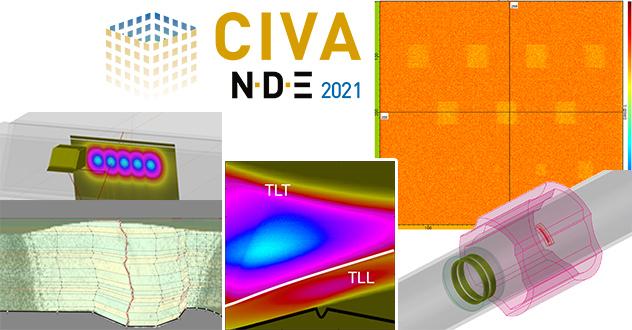 CIVA 2021 features:
A new NDE method joins the

CIVA

platform with a

Thermographic Testing

module. It includes

Optical lamp thermographic

inspection simulation and an

Induction Heating

computation module.
A dedicated tool for

Steam Generator Tube Eddy Current

inspection modelling, with the capacity to simulate many complex configurations (U-Bend, support plates, complex defects, section distortions, etc.).

CIVA

ET now also provides the possibility to perform field computations in complex geometries.

CIVA

UT comes with a new "

Sensitivity Coverage

" environment to give ultrasonic coverage and sensitivity maps, advanced features for PA UT TFM to help select the most efficient modes, new probes in

CIVA

UT (Daisy, Shear Waves 0°, etc.), and also more possibilities offered for complex configurations with the FEM engine available within

CIVA

UT.

CIVA

RT now includes a bridge to the advanced analysis software

ImageJ

.

CIVA

GWT lets you simulate inspection configuration with more defects and discontinuities.
Parametric studies and

metamodels

have been reorganized for more efficient design of experiments.
And let's not forget the recent CIVA SHM and CIVA Script modules that are, of course, still there in

CIVA

2021

!
You will find more information about the new features of CIVA 2021 in our release note and a complete description of CIVA in our datasheet.
Our users with a valid maintenance contract will receive this update within the next few days.
Do not hesitate to contact us if you have any questions about CIVA.
The EXTENDE team.