17.032021CIVA can now process TFM data from TPAC!Category "CIVA Software"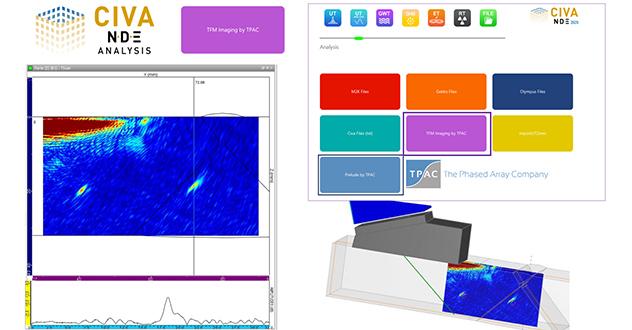 After becoming compatible with PRELUDE format last year, CIVA Analysis can now read TFM images obtained with ARIA or TOKATA software (and saved with *.h5 extension) from TPAC, The Phased Array Company.
A plugin has been developed and is available for free to all CIVA users in the upcoming CIVA 2020 SP4 version.
This new step makes CIVA Analysis the reference multi-format UT analysis software. All CIVA UT users can work with a single software on the analysis of many different acquisition data formats.
Do not hesitate to contact us if you have any questions, and hurry up to renew your maintenance or purchase a license to benefit from this unique analysis software!
All features of CIVA Analysis are also included in a current license of CIVA UT!
The EXTENDE team.